Speardiver Platinum No Hole 19mm Rubber Tubing
Highest quality latex tubing for speargun band making. No inner diameter/no hole = more rubber = more power. Sold by the foot
Speardiver no hole 19mm rubber tubing, our platinum color is actually metallic silver not light grey.
If you're looking for speargun rubber that will stretch to %400, hold energy in a loaded state for a long time with minimal power loss, and have a continuous smooth release instead of a burst that results in muzzle kick and reduced speargun accuracy, then this is the rubber tubing for you.
Understanding rubber tubing specifications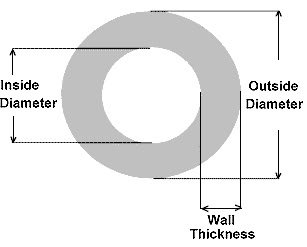 For conventional 5/8" (16mm) speargun bands add 1/4" left wall thickness + 1/8" ID/hole + 1/4" right wall thickness for a total of 5/8" OD. The specification for typical 5/8" speargun bands is 1/8 X 1/4 (ID X Wall).

In comparison the Speardiver no hole rubber tubing ID is effectively eliminated, and the wall thickness is increased by 1/16". The tubing has no hole and maintains 5/8" OD. The specification for Speardiver no hole 5/8" rubber tubing is 0 X 5/16. The same formula applies to all Speardiver no hole rubber tubing: 14mm, 16mm and 19mm.

Why the format of this rubber tubing was chosen
Quality speargun rubber tubing is made of Latex/natural rubber, which comes from the sap of the rubber tree. Latex in its natural color Amber is less resistant to sunlight. Color dye is added to the Latex for UV protection, extending the life and performance of the band, at the same time giving your speargun an exciting new look. Platinum color bands look great over dark aluminum pipe guns and especially carbon barrel spearguns.
Cut open a band after a day of spearfishing and you'll see water come out of the hole. The cycles of stretching and compression draw water into the band no matter how tight you tie in the wishbone, and it remains trapped there. Salt water damages the band from the inside, you can see this layer of deteriorated rubber immediately around the hole of a used band. Having no hole water intrusion into the band is completely eliminated, improving performance and increasing longevity.
No hole equals more rubber at the same diameter, which equals more power without increasing the profile of your loaded speargun. When choosing no hole rubber tubing for your speargun be careful not to overpower and lose accuracy.
Speardiver no hole rubber tubing is designed to be used with the Speardiver wishbone system, changing speargun band making into a fun and easy task with professional results. The other materials you'll need are Speardiver wishbone spectra and band tying twine.