Our company
Speardiver is an American brand based in Florida, offering a complete range of quality freediving and spearfishing equipment.

Speardiver was started by breath hold spearfishermen looking for the best gear to meet their requirements. Continuously experimenting with equipment over three decades of underwater hunting, and staying in step with the latest manufacturing technology, we ended up with what works best. Now our goal is to outfit every freediving spearo with no-frills high quality gear that's uncompromising in its suitability for the task, at a fair price.

Our product lineup was measured against the best freediving and spearfishing equipment currently available, and engineered to fill in the gaps left by other manufacturers. Most spearfishing equipment available on the market comes from Europe, where spearfishing conditions and environment are different to what we encounter in the USA. European engineering leans toward finery at the expense of usability. Speardiver gear changes the game combining aesthetics and attention to detail with rugged durability.

Before being offered to the public all Speardiver gear is tested by our local south Florida freedivers, and then by freedive spearfishermen across the continental US and the Caribbean. We are constantly seeking input from users about how we can improve and expand our product line. All freediving and spearfishing gear offered by Speardiver we use ourselves and recommend without hesitation.
Where to buy Speardiver products?
Complete range of Speardiver products is available from www.spearfishing.store
Our team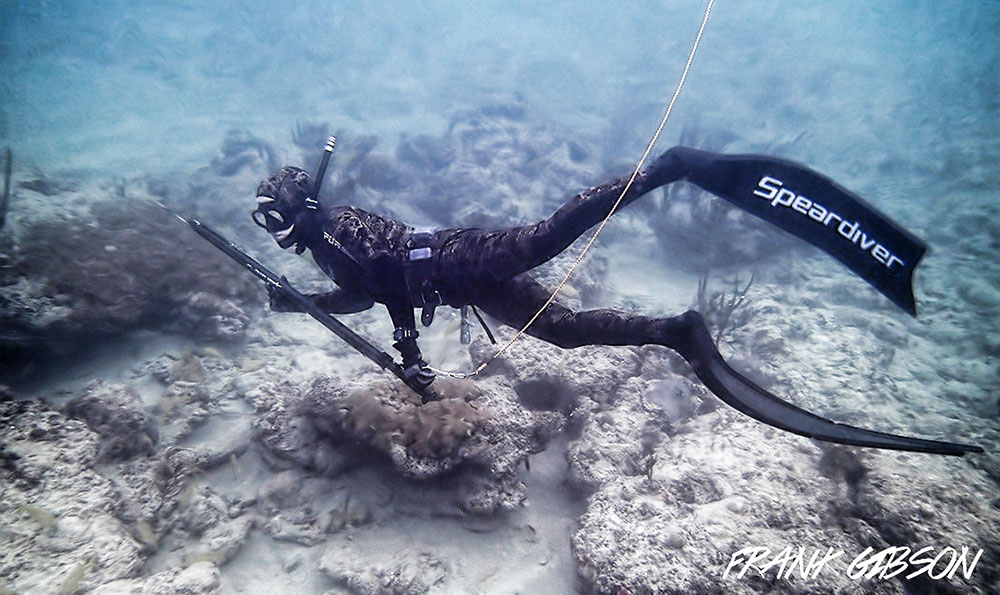 Our team members are experienced freedivers and underwater hunters who understand your needs.
Please feel free to contact us with any questions.

Hablamos español
мы говорим по русски
אנחנו מדברים עברית

What neoprene is used in Speardiver wetsuits?
Thank you for considering Speardiver wetsuits. The neoprene used in Speardiver wetsuits is proprietary information for the following reasons.


Our neoprene is chosen for the optimal balance between stretchiness/comfort and resistance to permanent compression. It's difficult to get this balance right and we don't want our competitors copying us.
There are misconceptions about neoprene in the dive community. For example Yamamoto 45 is purported to be the best and is priced accordingly. In reality it is very soft but compresses almost instantly leaving you with 1mm wetsuit instead of the 3mm you paid for. We believe the majority of divers are not in a position to form a correct opinion about a wetsuit based on the neoprene used.
We hope you understand our choice to let Speardiver suits stand on their own merit rather than throw around neoprene specifications.


Testimonials
"
Speardiver open cell wetsuits are the best I owned. I have a 3mm and 5mm for the coldest days of the season. My older suit the 3mm I have for 5 years and it's still like new. It has not compressed at all even though I regularly dive to 60ft."

Constantine Russo


"
Commercial spearfishing is very demanding on gear because we diving almost every day. Speardiver equipment last very long time and good priced. Spearfishing store help us when we need gear fast before trip and can only come late after normal store open hours. Tambien hablan Español, gracias Spearfishing Store."

Gabriel Hernandez