Speardiver C90 Fin Blade
Single 78cm carbon freediving fin blade
Single Speardiver C90 78cm carbon freediving fin blade.

Carbon fins general information
Carbon fiber fins are universally accepted as the best performing fins for spearfishing and freediving. Carbon fins are by far faster and lighter than plastic and fiberglass fins. A fast fin quickly releases the stored energy it acquired from being flexed/in other words it instantly springs back to straight in the water after your kick, this translates into superior propulsion. Lighter fins are easier to kick and swim with for longer periods of time without tiring the legs.

The manufacturing process and materials (carbon fiber and resin) used in the production of carbon blades, must produce blades that are consistent in stiffness and flex characteristics, and most importantly durable. This is no simple task for most aspiring manufacturers offering their fins in today's satrurated carbon fin market. Speardiver fins have met these criteria since their introduction in 2009. Attention to small but very important details such as correct blade surface area (blade length and width), ideal built in toe angle, quality water channeling rails and rails for installation in foot pockets, have put Speardiver fins ahead of the competition. Our experience with practically every foot pocket available, enables us to manufacture carbon blades that will combine well with different foot pockets, to precisely meet the requirements of an individual diver. Read reviews from divers using our carbon fins Speardiver carbon fins roll call.
Speardiver carbon blades features
Two year warranty against failure under normal conditions of use, with approved foot pockets (see list at bottom)
Blade length: 30.7" (78cm)
Complete fin length (blade and footpocket): 35.8" (90cm)
Blade width: 8.27" (21cm)
Blade weight (medium stiffness): 10.7oz (304g)
25º built in toe angle.
Water channeling rails.
Foot pocket tendon rails for easy installation of the blades in foot pockets. No glue is required for installation.
3 stiffnesses:

Medium soft (MS) A very light blade suitable for experienced divers who can get the same propulsion out of a soft blade using proper kicking form, and for divers who get knee and ankle pain from stiffer blades.
Medium (M) A light fast blade for all around diving.
Medium hard (MH) A stiffer blade for divers who prefer a stronger kicking style.
Rails
Speardiver blades have water channeling rails, and rails that snap into the foot pocket tendons. We designed and manufactured each type of rail specifically for these tasks. Most manufacturers cut corners with this aspect of fin making, using a single type of rail for both. Correct water channeling rails are improtatnt for stabilizing the fin in the water and protecting the blade side edges against impact, without adding unnecessary weight to the blade. Foot pocket rail shape is important for ease of installation of the blades in foot pockets, and the holding power of the foot pocket tendons over the blade. Read more about rails here Fin blade rails explanation.

* Blades are provided with or without foot pocket rails installed. If the "installed" option is selected please specify your foot pockets and the size in the message field at checkout. We will cut the rails to length and install them on the blades for exact fit with your foot pockets. This is important because different foot pockets have different length tendons, and require rails to start and end at different points. If "not installed" is selected we'll send enough rail material with the blades for installation in any foot pockets, and the customer glues the rails on.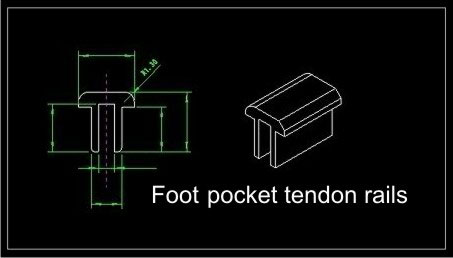 Installation options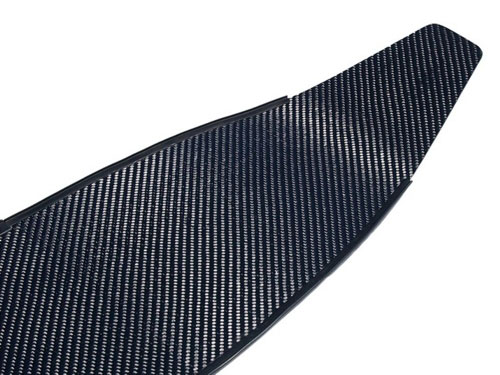 Foot pockets like Picasso and OMER Millenium use the retaining knob system to secure the blades. The knob (sold separately) is installed on the blade and inserted into the corresponding hole in the foot pocket sole. It prevents the blade from sliding forward out of the foot pocket. The foot pocket tendons clipped over the blade rails do most of the work keeping the blade in the foot pocket.

The retaining knob require one hole to be made in the back edge of the blade, where it doesn't affect the blade's functionality and durability. The retaining knob will be in the same position for the same foot pocket in different sizes, so the same blade can be used with a different size foot pocket without further modification.




Foot pockets like OMER Stingray, Cressi and Beuchat use a foot pocket kit to do the same job as the retaining knob. The kit requires two holes in the blade near the toe angle. The holes will be in different positions for different foot pocket sizes. If it becomes necessary to install the blades in different size foot pockets, it's not recommended to make two set of holes near each other, especially very close the toe angle.

If the blade fails along the screw hole line it's not covered by our warranty. However foot pocket kits like OMER Stingray, Cressi and Beuchat use small diameter screws requiring small screw holes, and have a back plate for additional screw support, which together amount to a safe installation. We've never had blades fail along the screw line with these foot pockets.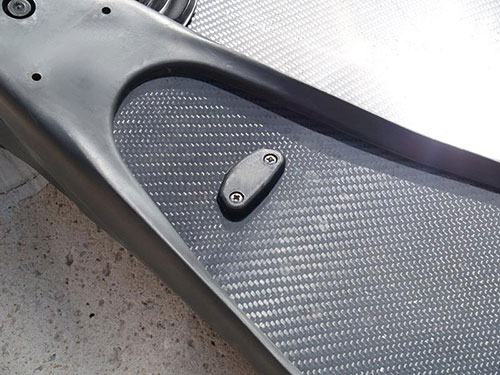 * Installation using a retaining knob, foot pocket kit, or glue is considered an alteration to the blades. We will not refund or exchange altered or scratched blades. Blades can be tested using a temporary installation, by fitting inside the foot pockets and taping the tendons to blade with clear packaging tape.
Foot pocket approved for blade warranty:
OMER Stingray
Cressi Gara Modular
Beuchat Mundial
Picasso Power
OMER Millenium
Spetton
Speardiver C90 carbon blades in action