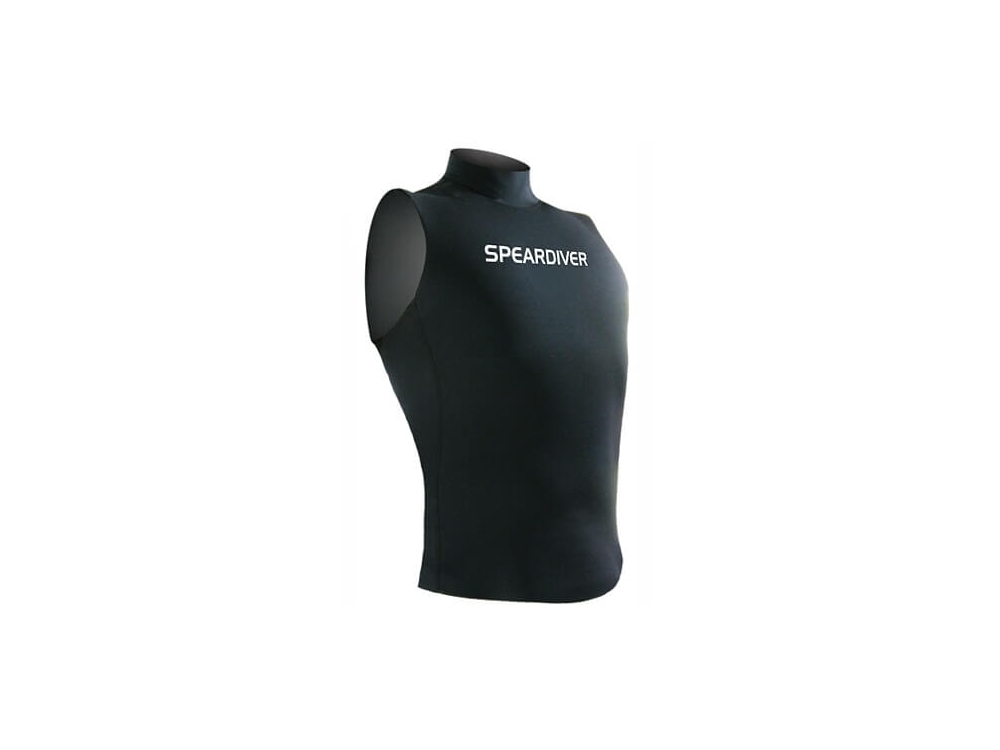  
Speardiver 3mm Open Cell Comfort Vest
Black 3mm open cell neoprene comfort vest
Used under a wetsuit or rashguards for added warmth, Speardiver 3mm open cell freedive vests are the professional diver's choice. Manufactured with high quality neoprene chosen for the ideal balance between stretch/softness and resistance to permanent compression. This neoprene combined with an anatomical shape makes Speardiver vests so warm and comfortable you'll forget you're wearing one.

The open cell interior creates suction against the skin, completely stopping water from entering the vest. This makes the vest much warmer than vests with a lined interior. A 3mm open cell vest will be as warm or warmer than a 5mm double lined scuba vest. Less thickness means less weight that the diver has to carry on their belt. No inside lining also makes the vest more flexible and comfortable.

Open cell vests require lubrication to put on, a mixture of water with a small amount of hair conditioner in a spray bottle is normally used. The vest can also be put on in the water with no lubrication. Once thoroughly wet inside, the vest slides on and off effortlessly, an open cell vest is much easier to don than a conventional double lined scuba vest. Open cell is easy to wash/keep clean and is more resistant to bacteria growth than pourous lining.

The outside of the vest is lined with durable Lycra to protect the neoprene and diver from cuts that can be caused by contact with the reef.

What is open cell?
The term open cell is widely accepted by manufacturers and divers despite being somewhat of a misnomer. For the benefit of those not familiar with open cell wetsuits a quick explanation will be helpful. Without exception ALL wetsuits are made with closed cell neoprene material, hence the misnomer. For our purposes open cell simply refers to the interior surface of the suit being smooth neoprene without a lining attached. The term open cell is derived from the process of shearing/cutting the neoprene into precise thickness sheets required to produce the different thickness wetsuits. The shearing exposes only the top layer of micro cells (neoprene is made up of tiny cells filled with air) and the neoprene does not become permeable as the name open cell would imply. The sheared surface is smooth to the touch, and each sheet has two sheared surfaces (top and bottom). One of them is left as is, that's the interior of the vest and goes against the diver's skin. The other surface has a Lycra lining applied to it.
Size Chart for 3mm and 5mm Vests
| | | | | | | |
| --- | --- | --- | --- | --- | --- | --- |
|   | S | M | L | XL | 2XL | 3XL |
| Height | 5'4"- 5'6" | 5'6"- 5'8" | 5'8"- 5'11" | 5'10"- 6'2" | 6' - 6'4" | 6'1"- 6'6" |
| Weight | 130 - 160lb | 150 - 180lb | 170 - 200lb | 190 - 220lb | 210 - 240lb | 220 – 280lb |

Speardiver vests are very stretchy and there is some overlap between sizes. If you find you're at both weight and height extremes for a particular size, you may require the next size up.

We'll be happy to exchange a vest for another size if you feel the fit is not right, provided the vest is returned to us in original condition. Please be careful donning the vest as open cell is sensitive to cuts with fingernails. The exterior Lycra is as durable as any lined suit and you can safely pull on it.